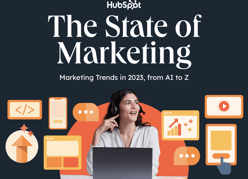 In 2023, marketers are doing everything they can to reach their target audiences, with demand for innovative, dynamic content at an all-time high.
During a time of so many environmental, social, economic, and political challenges —marketers need to be ready to pivot, and being flexible can really pay off.
Download the 2023 State of Marketing Report from HubSpot, and learn from marketing leaders around the globe what's top of mind for them this year, and what you should be focusing your energy (and budgets) toward, including:


Biggest Changes in Marketing
Emerging Market Trends
Marketing Benchmarks
Content Marketing Trends
Social Media Marketing and Influencer Trends
Video Marketing Trends
Email Marketing Trends
Future Marketing Predictions
And much more

Simply fill in your information to immediately access your copy of the 2023 State of Marketing report from HubSpot.