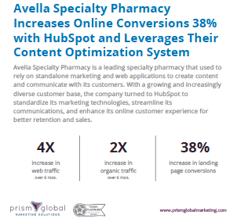 A specialty pharmacy needed to personalize the customer experience on their website and through marketing communications.
Over the course of 6 months, the company leveraged a number of HubSpot apps to provide real-time data and actionable insights for delivering powerful, targeted content to its diverse customer segments. As a result, Avella was able to:

Increase Online Coversions by 38%




Increase in Website Traffic by 400%

Increase Organic Traffic by 200%


Access the case study to learn how HubSpot enabled the specialty pharmacy to take their website and marketing to the next level. Simply fill in your information to access the Specialty Pharmacy & HubSpot case study.