Do you need to increase your website traffic, qualified leads, and new customers?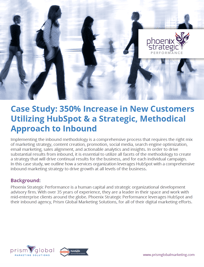 A professional services firm was looking to increase its website traffic, leads, and customers while building its thought leadership.
By leveraging HubSpot, with a comprehensive approach to inbound marketing, they saw growth in all aspects of their marketing and sales program, including:
29% Increase in Website Traffic
339% Increase in New Contacts

350% Increase in New Customers
Simply fill in your information to access the case study.