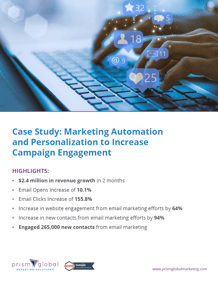 Are you looking to increase your email open rates, click rates, and overall engagement?
Discover how send time optimization, a way to automatically deliver emails to each prospect in your database at their most optimal day and time, can dramatically improve your email marketing performance.
See how we worked with this healthcare organization with a B2B and B2C audience to achieve the following results from email:
$2.4 million in revenue growth from email 👏
Increased Open Rate of 9.9%
Increased Click Through Rate (CTR) of 3.8%
Increased Website Sessions from Email by 64%
Increased New Contacts from Email by 98%
Re-engaged

24% of Dormant Email Contacts
Simply fill in your contact information to access the case study.