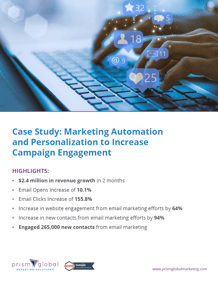 Are you looking to increase your email open rates, click rates, and overall engagement?
Learn how send time optimization, a way to automatically deliver emails to each individual in your database at their most optimal day and time, can dramatically improve your email marketing performance.
This case study outlines how a healthcare company saw an increase in email engagement, grew new contacts from email, and re-engaged dormant contacts from email.
As a result of this, they were able to achieve the following results:
Increased Open Rate of 9.9%
Increased Click Through Rate (CTR) of 3.8%
Increased Website Sessions from Email by 64%
Increased New Contacts from Email by 98%
Re-engaged

24% of Dormant Email Contacts

Simply fill in your contact information to access the case study.