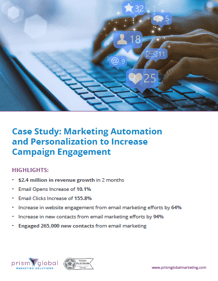 Do you want to increase email open rates, click rates, and engagement?
Download your copy of our marketing automation and personalization case study to discover how email send time optimization can dramatically improve your email marketing performance.
By leveraging HubSpot and Seventh Sense, we were able to help a B2C healthcare company increase email open and click rates, grow new contacts and re-engage dormant contacts.
As a result, they were able to achieve the following results:
Increased Open Rate of 9.9%

Increased Click Through Rate (CTR) of 3.8%

Increased Website Sessions from Email by 64%

Increased New Contacts from Email by 98%

Re-engaged 24% of Dormant Email Contacts

Simply fill in your contact information to access the case study.