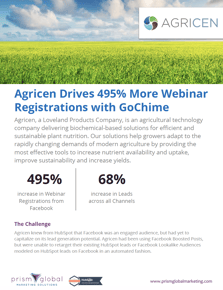 Do you want to increase your lead generation from Facebook and other social media channels?
Agricen, a plant health technology company, needed to capitalize on the
lead-generating potential of its Facebook audience.

To do this, Prism Global Marketing Solutions started to leverage retargeting on Facebook to help Agricen execute Facebook ads in parallel with the existing email and automation strategy. As a result, we were able to increase:
Webinar Registrations from Facebook by 495%

Facebook Clicks by 617%
Facebook Followers by 25%
Facebook Interactions by 10%
Leads Across All Channels by 68%
Simply fill in your information to access the digital version of the
case study.