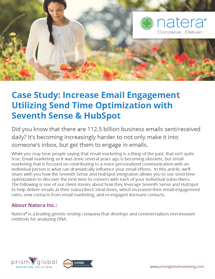 Do you want to increase email open rates, click rates, and engagement?
Download your copy of our email marketing case study to discover how email send time optimization can dramatically improve your email marketing and marketing automation performance.
By leveraging artificial intelligence, we were able to help a client utilize email to get their message in front of their audience at the exact right time. As a result, they were able to achieve the following results:
Increased Open Rate of 5.1%
Increased Click Through Rate (CTR) of 18.1%
Increased Rate of Net New Contacts from Email Marketing by 85%
Decreased Time to Achieve Similar Email Marketing Results by 17%
Re-engaged 15% of Dormant Email Contacts
Simply fill in your contact information to access the case study.