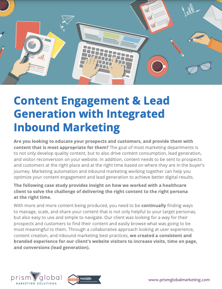 Do you want to increase your unique website visitors by 808% with content marketing?
The overall objective for this client's content marketing was to differentiate themselves within their niche market to both healthcare providers and patients.

Over the course of 6 months, we worked with this organization to develop a strategic content marketing and amplification plan that resulted in the following:
Increased Unique Visitors by 808%

by directing their content-related traffic to a single content hub location on their website

Increased eBook and White Paper Views by 411%

with the ability to track engagement using HubSpot document

Increased Links Clicked by 540%

by boosting engagement with content

Increased Unique Page Views by 1899%

with an experience that encouraged further content consumption
Simply fill in your information to access the digital version of the content marketing amplification case study.